Visit Palestine
Visit Palestine
is a devastating account of a Irish womans' experience of working as a international observer in Jenin. This film covers 3 years of her life. Caiomhe Butterly lived with the people of Jenin and helped protect whoever she could, from the daily effects fo the Israeli occupation - there was a time when she had received some news airtime when she was shot by the Israelis. Luckily she survived with no disability, Through this, Caiomhe was awarded the Time Magazine European Hero Award.
Caiomhi's film shows what it is like for the people to be under enforced curfews... to be bombarded by soldiers in tanks and guns - the bombing of peoples homes - the killing of men, women and children. The grief of the loved ones, such as orphans and partners who have to deal with life managing with children, loneliness and financial difficulties without their husband or wife. Including the mother of one of the few female suicide bombers. Who is now without 2 of her beloved children. 1 having died due to being shot by the Israelis - in front of his sister, who went on to avenge her brothers death, by blowing herself up and killing Israelis.
The film shows how politicised the children are from living in an unnatural and psychologically crippling environment - where they have to often run to school, ducking and diving under gun fire. when they have to deal with classmates being shot in their own classrooms and being taught how to survive under those dangerous conditions.
There were many children, men and particularly women who talked about their experiences of losing loved ones and homes. Not one of those people blamed or showed any hatred for the Jewish/Israeli people. But they had made clear where they did focus their frustration of where the daily bombardment had come from, which was Ariel Sharon, the Israeli premier.
It is so easy to disassociate oneself from such circumstances when clips are shown on the news - but this film was gritty and brought home to me, the emotional, physical and social factors of the people of Palestine.
As for the activists that go to places of conflict, like those who go to Palestine and Iraq. I have often heard people saying that such people are mad and careless - but watching this film shows that these people know they are not going to have an easy time or some sort of holiday - This film confirms that they're only purpose is utter determined humanitarianism.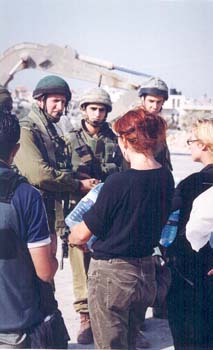 I recommend this film to anyone who has an interest in Middle Eastern politics. Go on the website - and see about getting it shown at your nearest independent cinema - or buy the DVD.
I went to a local showing and we had the opportunity to ask Katie Barlow, the directer of the film questions about her work. She is doing her best to get major TV channels to show her film - which has already been shown in some places in the Middle East and free speech TV.