The Cost of War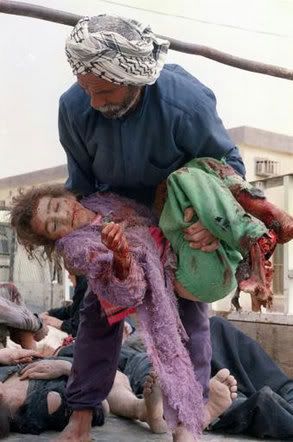 We often see images of aftermath of destruction - this image was flashed around the world shortly after the Coalition started their *shock and Awe* campaign against Iraq...
The story behind this - was this girl called Ibtihal Jassem, she was born both deaf and dumb - in the instant that her legs was blown off, she also lost all of her family - in the picture you see her uncle, carrying her body.
Ibtihal - is a survivor, but will live for the rest of her life, not only having severe communication issues, in a society that does not cater for her special needs - but also severely physically disabled, with mobility problems that now thanks to the war, will leave her dependent on mobility aids, which are hard to come by. For a moment reflect on what must be going on inside this girls mind...
Here is a link with more information about Ibtihal
http://www.unknownnews.net/040329angelofbasra.html