What a Bloody Shame!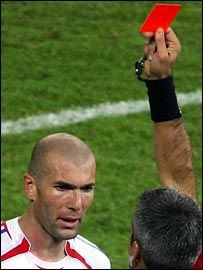 I'm talking about Zinedine Zidane... his glorious career ending LIKE THAT!
I wonder what Marco Materazzi actually said to him to cause Zidane to lose his rag.. the people on the radio are speculating that it might have been a racial remark.
Seeing that before all matches - each team would publicly commit themselves to making football (and the wider world) a tolerant and non racist platform... if it was somehow proven true, in that Zidane had been subjected racial abuse... should Italy be stripped of its world cup title?