Carnival coming soon...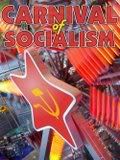 I am still doing the
13th Carnival of Socialism
, but I'm gonna put it up next weekend rather than this. I just got carried away with the Meacher stuff. Thanks to all who've sent contributions, I promise I haven't forgotten you.
The plus side is that if you still want to send something in that works around the approximate topic area of
"Why is the left obsessed with the Middle East?"
, then you have a small extension time within which to do so. I'd particularly invite contributions from people who don't come from the same traditions as me or share my gripes about the left. After all, it's intended to be a provocative topic, and I know that some of you who read this blog enjoy a row. So here's your chance to do exactly that, in a medium other than the comments boxes. Although those will doubtless be busy next weekend too!
Contributions and comments, as ever, to
voltaire_reincarnate@lycos.com