Hehehehehehe....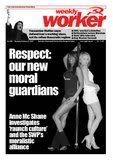 Pant-pissingly funny interview of the week can be found in the current
Weekly Worker
, where Peter Manson interviews Yasir Idris, the recruitment consultant who beat SWP full timer Helen Salmon to the Respect nomination for a seat in the next set of elections to Birmingham City Council. The article reveals a lot about the state of Respect and its internal politics - remember before reading it that Birmingham is one of their
better
areas, with the politically credible Salma Yaqoob standing an outside chance of taking a parliamentary seat at the next general election.
Idris certainly has a firm social background in the West Midlands:
"My father has been a businessman. Back in 1978, when I was born, my father owned most of the Ladypool Road. It's known now as 'Balti junction' because of the number of restaurants there. He owned various retail units - clothes shops, newsagents, travel agents, restaurants, etc, etc. My father owned a good 20 shops on that stretch."
What's more, the family's prestige may have helped with the (alleged) joiners on voting day who helped put Yasir over the top in the candidate selection ballot:
"It's probably because of my influence as well. I'm well known among these people and my family are well known. I helped convince these people - hey, we do need members. Respect needs to move forward among the Asian community. We need to join together as a coalition, in unity with everyone else, to show these people that, yes, we can live side by side and we can live united."
He's not entirely au fait with Respect's policies, but is apparently reading up on them. This news will doubtless come as a comfort to the SWP, who were so careful not to allow anything too radical through when writing them. Perhaps they had Yasir in mind?
Anyway, read the rest of it
here
. It really is incredibly funny. Unless you're Helen Salmon or the SWP, that is.