Carnival Time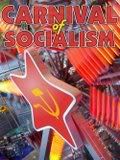 The sadder among you (and I count myself amongst your number, brothers and sisters) will be aware of the phenomenon of "carnivals" among certain political bloggers. They're basically back-slapping fests where someone posts links to blogs that they think people who are like-minded, would enjoy reading. The first of these, unless anyone knows better than I, was the Carnival of Capitalism, of which you can see an example
here
. In the main, participants would be libertarian right wingers,
Guido
types, albeit generally lacking his sense of humour. All affable enough, albeit not very interesting; I prefer to get my libertarian anti-PC fix from
South Park
.
Then, there was the
Carnival of Socialism
, which was a similar thing, this time coming from the left. If I'm perfectly honest, I didn't pay it the attention that perhaps I should have, until
Stroppy
did a rather good one
on liberation politics
recently. This was all the more remarkable because her efforts left a carnival on that subject which, amazingly for the UK left, managed not to just be 20 posts repeating the usual mantras about Palestine and Iraq.
But now a spectre is haunting the world of internet carnivals. Yes, prepare yourselves one and all, for...
the Carnival of Denham!
(PS - note to Carnival of Socialism people - I'll do the next one if you like!)