Free Kareem!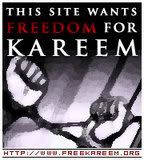 I'd been meaning to write this for a while, but didn't get around to it. I want to add this blog's voice to those in the movement to free liberal Egyptian blogger
Kareem Amer
(Abdel Karim Nabil Suleiman) who has been imprisoned for the thought crime of writing opinions critical of Islam, and of Egyptian President Hosni Mubarak. In doing so, he has earned the wrath of both the corrupt Mubarak regime and the Islamist opposition, the Muslim Brotherhood.
Kareem has been shortlisted for the
Index on Censorship/Hugo Young Award for Journalism 2007
. His articles included a pledge to defend Arab and Muslim women against discrimination, criticisms of Al-Azhar University where he was a student, and attacks on Mubarak as a
"symbol of Tyranny"
. He was jailed for "incitement to hate Islam" and "defaming the president of the republic", or in other words for uttering opinions with which powerful political forces in Egypt happened to disagree.
Kareem is supported by a wide range of people and organisations, from Muslim bloggers such as
Yasmin Amin
, to
Human Rights Watch
and
Amnesty International
, even extending as far across the spectrum as the "pro-war lefties" of
Harry's Place
. Please, add your voice too.
The website for the
Free Kareem campaign
has more information.