Jim Denham: Live and Unleashed!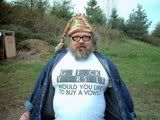 Yes folks it's true! After long and detailed negotiations with his agent in the bowels of Birmingham's finest real ale emporium, Mr James Denham Esq has finally confirmed his attendance at this coming Saturday's
Socialist Bloggers' Meetup
. This is obviously a tremendous step forward for the organisers, who are now rumoured to be hiring stewards in anticipation of a mammoth surge in attendees at the event. Further, fears of fainting fits among the inevitable crowds of screaming teenage groupies have caused an alert among local health services, with three local authorities and military back-up services placing teams of ambulancemen armed with smelling salts at the ready should they be needed.
Denham will be holding court on a number of subjects, limited only by the number of real ales he's able to consume before becoming unmanageable. Which is quite a few, if my own recollection of the negotiations leading to his signing on the dotted line for the event are anything to go by...
Seriously though, if any of our readers happens to be in London on Saturday (20 Jan), you'd be more than welcome to come along for a pint or three. Even the SWP'ers and Blairites. Details are on
Kit's site
.
Heck, if you're extra nice, I might even buy you a beer.
See y'all there!